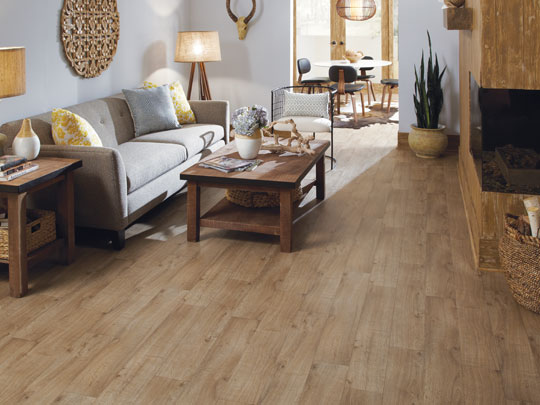 As I've mentioned before, hard-surface flooring is best suited for those with asthma and allergies because wall-to-wall carpeting is a common home for dust mites that can trigger an allergic reaction in many people. Carpet is also difficult to keep dry and moisture is a breeding ground for mold.
But not any old hard-surface flooring will do. Certain kinds of wood, tile, slate, or synthetic surfaces are better than others, so it is important to make sure chemicals that can irritate the skin and airways—such as urea, phenyls, and formaldehyde—are not present in large quantities. This type of flooring should be moisture resistant, which helps keep mold and mildew from growing in your home. It should also be easily cleanable with a recommended cleaning method that not only doesn't introduce new toxins or irritants, but actually reduces allergens and irritants in your home.
Tarkett's residential and commercial FiberFloor are a more suitable option for people with asthma and allergies because it is scientifically proven to considerably reduce your exposure to allergens. This hard surface flooring has been scientifically proven to:
...