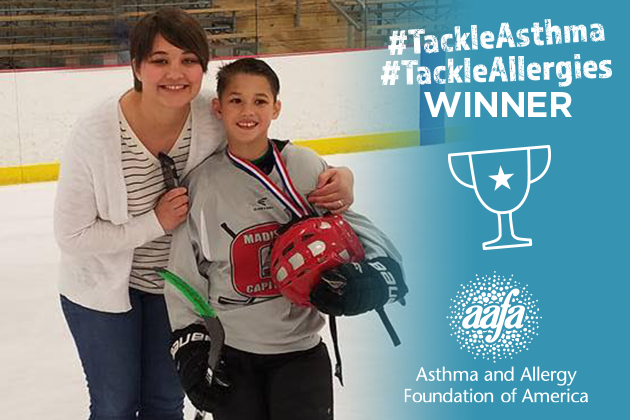 The Asthma and Allergy Foundation of America chose Avery and his mom Jessica as their final winners in their #TackleAsthma and #TackleAllergies photo contest. Avery loves hockey but hasn't let asthma hold him back. Through his photo, he proves that asthma doesn't have keep you from your favorite sports and activities.
"My son Avery tackles allergy induced asthma by playing HOCKEY!He is 10 years old and has been playing club for 7 and just made his first AAA team this past spring. Asthma may make it more difficult for him but he doesn't use it as a crutch ...he finds a balance between pushing himself and knowing his limits. He had his first anaphylactic incident this past Fall, spent 2 nights in the ICU, and came out a fighter" – Jessica


Avery and Jessica won these products #forahealthierhome:
Rabbit Air's MinusA2 air purifiers are designed to adapt to and complement any space. The Minus A2 Certified asthma & allergy friendly® SPECIAL EDITION comes preselected with the Odor Remover customized filter.
This asthma- and allergy-friendly stuffed toy is machine washable and can hold up to many washings. It's 12 inches tall and is proven to maintain low levels of allergens.
This hypo-allergenic and fragrance-free dusting spray is designed to reduce allergens on surfaces and in the air. Specially formulated with less-irritating ingredients and free of perfumes and fragrances, Endust Free Hypo-Allergenic Dusting and Cleaning Spray will quickly and easily pick up dust and remove allergens, fingerprints and smudges from just about anywhere in your house.
Swiffer Sweeper Starter Kit
The Swiffer Sweeper Starter Kit is a 2-in-1 hard surface sweeping and mopping tool. The dry cloth has deep ridges and grooves that conform to the surface of your floor to trap and lock dirt, dust, hair and inanimate allergens, while the wet cloth dissolves dirt and grime and traps it away giving you an amazing clean.
With Dust Lock Adhesive™ and 50 percent more fibers than regular dusters, this amazing all-around design cleans deep into grooves to trap and lock up to three times more dust and inanimate allergens than a feather duster.
Bona free & simple Hardwood Floor Cleaner reduces irritants without compromising cleaning power. Its hypoallergenic formula delivers the same exceptional results Bona is known for, yet is free of dyes and scents.
One way you can #TackleAsthma and #TackleAllergies is by using Certified asthma and allergy friendly products® like the ones above to create a healthier home environment. The products have been tested and certified to prevent and reduce allergens. If you would like to learn more about managing asthma and allergies, visit aafa.org for information and online support.
Thank you to all who showed us how you #TackleAsthma and #TackleAllergies. You are an inspiration to everyone who fights asthma and allergies every day.