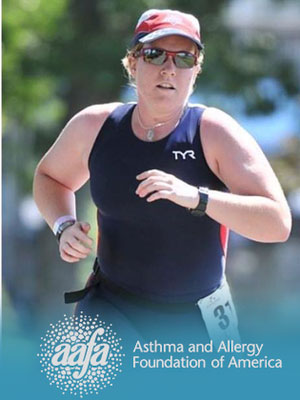 Erin M is AAFA's first #TackleAsthma and #TackleAllergies photo contest winner. Her photo proves asthma doesn't have keep you from sports and activities you love.
Erin M's photo description reads, "Severe asthmatic who's been intubated countless times. Still uncontrolled and struggle daily. But I'm a decorated triathlete, cyclist, boxer and I ski. I'm graduating in 2 weeks with honors from grad school with a M.S. I'm med school bound in the future."
During Asthma and Allergy Awareness Month, AAFA is giving away a "healthier home" package of asthma & allergy friendly® Certified products to five winners.
Erin M has won these great products #forahealthierhome: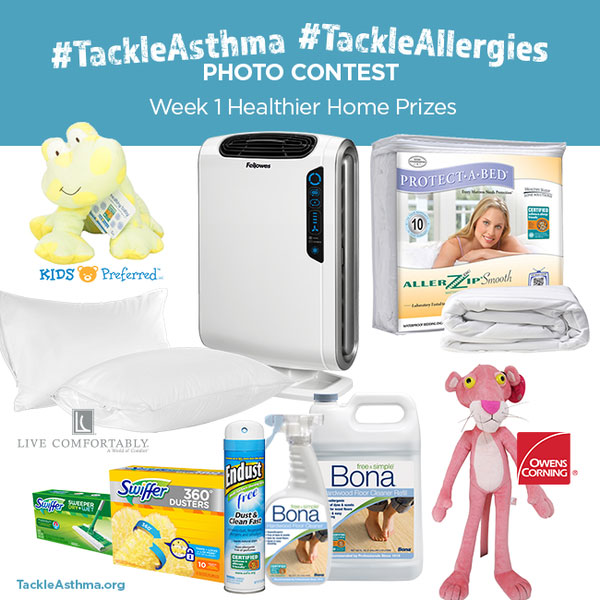 1. Owens Corning® Pink Panther doll
Owens Corning makes asthma- and allergy-friendly insulation that reduces your exposure to allergens like dust, mold and mildew.
2. Fellowes® AeraMax® 200 True HEPA Air Purifier
This AeraSmart sensor automatically detects and purifies the air. It is a True HEPA filter with an AeraSafe antimicrobial treatment that safely removes 99.97 percent of airborne particles as small as 0.3 microns. This includes pollen, ragweed and other allergens such as viruses, germs, dust mites, mold spores and cigarette smoke. It also has a special mode for cold and flu season.
3. Kids Preferred, LLC™ Floppy Froggie
This asthma- and allergy-friendly stuffed toy is machine washable and can hold up to many washings. It's 12 inches tall and is proven to maintain low levels of allergens.
4. Endust® Hypo-Allergenic Multi-Surface Dusting Spray
This hypo-allergenic and fragrance-free dusting spray is designed to reduce allergens on surfaces and in the air. Specially formulated with less-irritating ingredients and free of perfumes and fragrances, Endust Free Hypo-Allergenic Dusting and Cleaning Spray will quickly and easily pick up dust and remove allergens, fingerprints and smudges from just about anywhere in your house.
5. Protect-A-Bed® AllerZip Mattress Encasement
The AllerZip Allergy Relief Mattress Encasement keeps your bed healthy, clean and allergy-free, for a more comfortable night's rest. The exclusive Miracle Membrane is an impermeable layer of protection to keep out common allergy triggers and provide natural allergy relief.
6. Swiffer Sweeper Starter Kit
The Swiffer Sweeper Starter Kit is a 2-in-1 hard surface sweeping and mopping tool. The dry cloth has deep ridges and grooves that conform to the surface of your floor to trap and lock dirt, dust, hair and inanimate allergens, while the wet cloth dissolves dirt and grime and traps it away giving you an amazing clean.
7. Swiffer Duster 360 Starter Kit
With Dust Lock Adhesive™ and 50 percent more fibers than regular dusters, this amazing all-around design cleans deep into grooves to trap and lock up to three times more dust and inanimate allergens than a feather duster.
8. Live Comfortably® Asthma & Allergen Friendly Lux-Loft Down Alternative Pillow
This pillow protects against common household allergens such as pet dander and house dust mites. It's brimming with luxurious and loft Lux-Loft® down-like cluster fill for comfort. It is 300-thread count, 100 percent cotton sateen.
9. Live Comfortably® Asthma & Allergen Friendly Pillow Protector
This pillow protector acts as a highly effective barrier against allergens. It's perfect for those with respiratory sensitivities. It is 400-thread count, 100-percent cotton sateen.
10. Bona free & simple® Hardwood Floor Cleaner and refill
Bona free & simple Hardwood Floor Cleaner reduces irritants without compromising cleaning power. Its hypoallergenic formula delivers the same exceptional results Bona is known for, yet is free of dyes and scents.
AAFA will be giving away four more packages with similar items between now and May 31. Show how you #TackleAsthma and #TackleAllergies and you could win a "healthier home" package too.