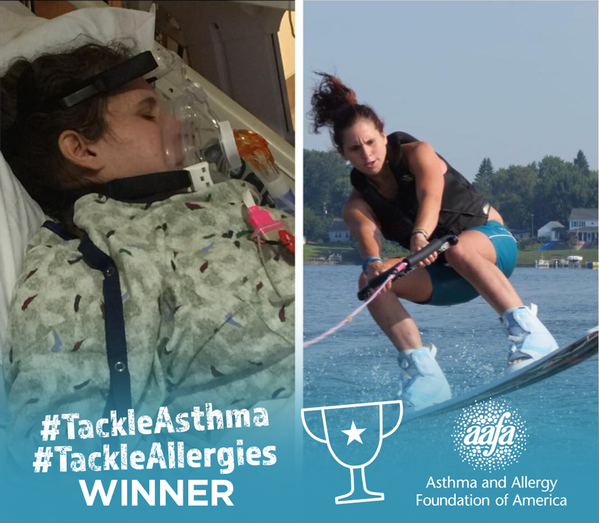 Lexi L is the Asthma and Allergy Foundation's fourth winner of their #TackleAsthma and #TackleAllergies photo contest!

"I try to not let my asthma hold me back from living my life to the fullest. I've been intubated once due to an asthma attack and recently had to be on the Bi-Pap this past November due to another attack.
Wakeboarding has always been my passion but due to being limited, I can't do certain things as much as I would like to. Also, being one that has such horrible allergies, that also limits me during the seasons but I keep chugging along!" – Lexi L

Lexi has had asthma since she was born. It's so severe that she struggles every day. She is an inspiration because even though she is limited in her daily activities, she can #TackleAsthma to do the activities she enjoys.
During Asthma and Allergy Awareness Month, AAFA has been giving away "healthier home" packages of asthma & allergy friendly® Certified products to five winners. One more winner will be chosen.
Lexi will receive these products #forahealthierhome: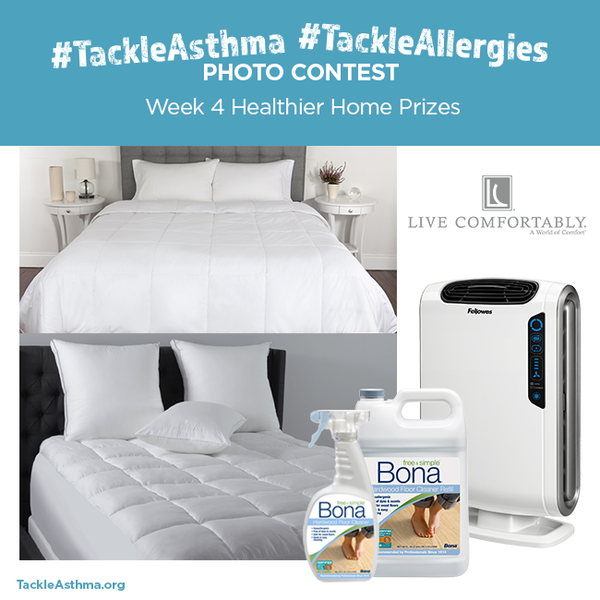 1. Fellowes® AeraMax® 200 True HEPA Air Purifier
This AeraSmart sensor automatically detects and purifies the air. It is a True HEPA filter with an AeraSafe antimicrobial treatment that safely removes 99.97 percent of airborne particles as small as 0.3 microns. This includes pollen, ragweed and other allergens such as viruses, germs, dust mites, mold spores and cigarette smoke. It also has a special mode for cold and flu season.
2. Live Comfortably® Asthma & Allergen Friendly Mattress Pad and Cluster Fill Comforter
This mattress pad and comforter are perfect for those with respiratory sensitivities. They are both 400-thread count, 100-percent cotton sateen. They can also be machine washed and dried.
3. Bona free & simple® Hardwood Floor Cleaner and refill
Bona free & simple Hardwood Floor Cleaner reduces irritants without compromising cleaning power. Its hypoallergenic formula delivers the same exceptional results Bona is known for, yet is free of dyes and scents.

AAFA will give away one more package with similar items. Thank you to all who participated by showing how you #TackleAsthma and #TackleAllergies.