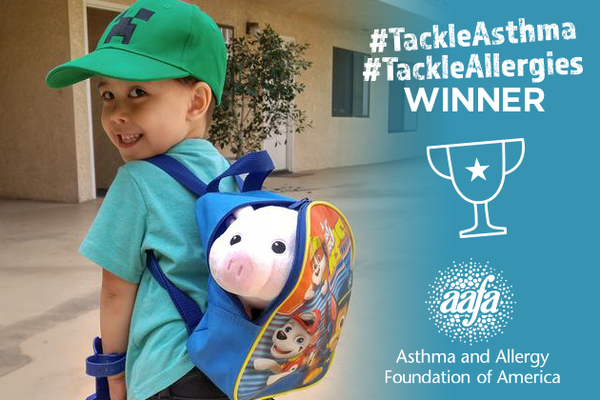 Emren and his mom Ashley are the third winners of the Asthma and Allergy Foundations of America's (AAFA) #TackleAsthma and #TackleAllergies photo contest!
Emren has asthma and food allergies. He also has a favorite stuffed pig that he likes to take with him everywhere he goes. He knows how important it is to keep his emergency medicines with him at all times. So whenever he leaves the house, his pig and his emergency medicines go with him.
Even though he is only 3 years old, Emren leads by example. He reminds us all how important it is to always have your emergency medicines with you. Using something you always carry with you as a reminder is a great way to remember to take your medicines with you too.
Thanks, Emren and Ashley for showing us how important it is to keep life-saving medicines close at all times.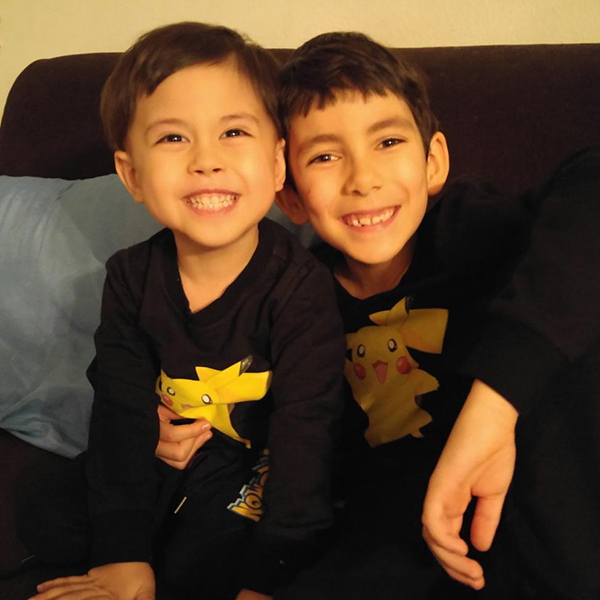 "Emren and his older brother Zayden are my definition of strength, courage, and passion. Having diagnosed food allergies and asthma has taught our family to truly treasure every moment we have. Emren has this way of always making others smile and laugh; such an imagination too! He may only be three, but in addition to always carrying his piggy with him... he knows that we must always carry their life saving medicines." - Ashley
Emren and Ashley have won these great products #forahealthierhome: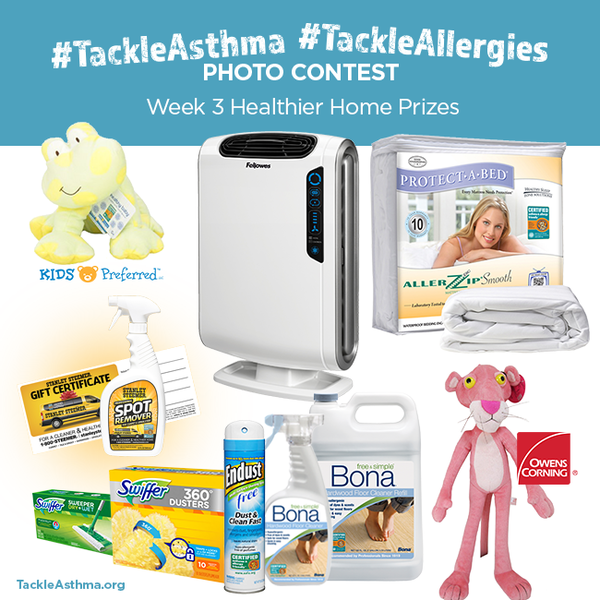 Bona free & simple® Hardwood Floor Cleaner and refill

Bona free & simple Hardwood Floor Cleaner reduces irritants without compromising cleaning power. Its hypoallergenic formula delivers the same exceptional results Bona is known for, yet is free of dyes and scents.

Endust® Hypo-Allergenic Multi-Surface Dusting Spray

This hypo-allergenic and fragrance-free dusting spray is designed to reduce allergens on surfaces and in the air. Specially formulated with less-irritating ingredients and free of perfumes and fragrances, Endust Free Hypo-Allergenic Dusting and Cleaning Spray will quickly and easily pick up dust and remove allergens, fingerprints and smudges from just about anywhere in your house.

Fellowes® AeraMax® 200 True HEPA Air Purifier

This AeraSmart sensor automatically detects and purifies the air. It is a True HEPA filter with an AeraSafe antimicrobial treatment that safely removes 99.97 percent of airborne particles as small as 0.3 microns. This includes pollen, ragweed and other allergens such as viruses, germs, dust mites, mold spores and cigarette smoke. It also has a special mode for cold and flu season.

Kids Preferred, LLC Floppy Froggie

This asthma- and allergy-friendly stuffed toy is machine washable and can hold up to many washings. It's 12 inches tall and is proven to maintain low levels of allergens.

Owens Corning® Pink Panther doll

Owens Corning makes asthma- and allergy-friendly insulation that reduces your exposure to allergens like dust, mold and mildew.

Protect-A-Bed® AllerZip Mattress Encasement

The AllerZip Allergy Relief Mattress Encasement keeps your bed healthy, clean and allergy-free, for a more comfortable night's rest. The exclusive Miracle Membrane is an impermeable layer of protection to keep out common allergy triggers and provide natural allergy relief.

Swiffer Duster 360 Starter Kit

With Dust Lock Adhesive and 50 percent more fibers than regular dusters, this amazing all-around design cleans deep into grooves to trap and lock up to three times more dust and inanimate allergens than a feather duster.

Swiffer Sweeper Starter Kit

The Swiffer Sweeper Starter Kit is a 2-in-1 hard surface sweeping and mopping tool. The dry cloth has deep ridges and grooves that conform to the surface of your floor to trap and lock dirt, dust, hair and inanimate allergens, while the wet cloth dissolves dirt and grime and traps it away giving you an amazing clean.

Stanley Steemer® $100 Gift Certificate and Spot Remover

Stanley Steemer® is the first carpet, tile and grout, and hardwood cleaning service to be Certified asthma & allergy friendly®, removing an average of 94 percent of common household allergens.